Could Services
บริการคลาวด์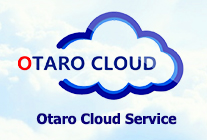 Corporate Leased Line Fiber Optic

บริการอินเทอร์เน็ตประสิทธิภาพสูงสำหรับองค์กร

AIR FIBER high speed wireless

บริการอินเทอร์เน็ตไร้สายสำหรับทุำกองค์กรธุรกิจ

MPLS เชื่อมโครงข่ายสาขาPrivatLink

บริการเชื่อมโครงข่ายสาขาPrivateLink

Fiber Optic Installation

รับเดินสายFiberOpticทั้งพาดเสาไฟฟ้าและในอาคาร

Multi Call Services

บริการโทรศัพท์สำหรับองค์กร

Streaming Services

Application, TV, Radio & Website Streaming

Co-Location

บริการเช่าพื้นที่วางเครื่องเซิร์ฟเวอร์

Dedicated Server

บริการให้เช่าเครื่องเซิร์ฟเวอร์

VPS + Plesk 12 (Domian Unlimited)

Virtual Private Network

Web Hosting

บริการให้เช่าพื้นที่จัดทำ Web Site

Domian Name

ให้บริการจดทะเบียน โดเมนเนม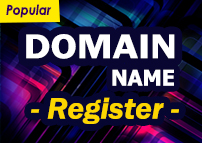 Corporate Leased Line Fiber Optic
(Private Link Internet)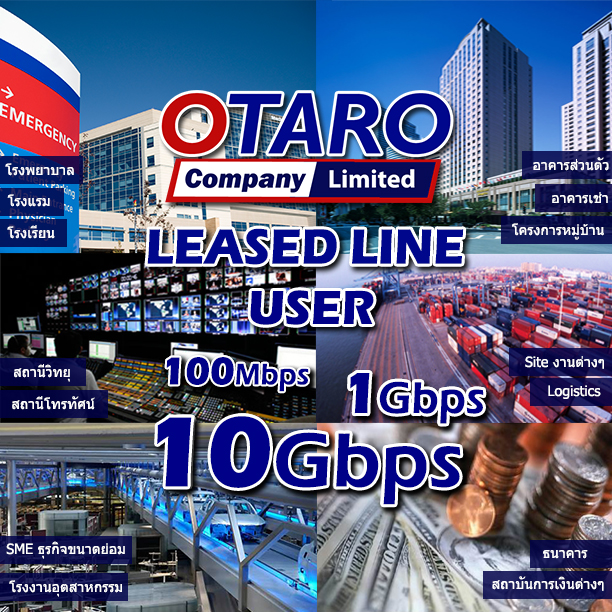 ..............บริการอินเทอร์เน็ตความเร็วสูงและความเสถียรสูงสำหรับบริษัท องค์กร SME โครงการหมู่บ้าน สถานีวิทยุและโทรทัศน์ โรงแรม โรงเรียน โรงพยาบาล ธุรกิจโลจิสติกส์ ธนาคาร สถาบันการเงินสามารถให้บริการยืดหยุ่นได้ทุกสถานที่เช่น อาคาร ตึกสูงต่างๆ โรงงานอุตสาหกรรม ไม่แชร์ความเร็วสำหรับบริการนี้ จึงมีความคงที่ของสัญญาณสูงเป็นเทคโนโลยีที่มีความเร็วสูงที่สุด เสถียรที่สุด ผ่านโครงข่ายสายใยแก้วนำแสงของ OTARO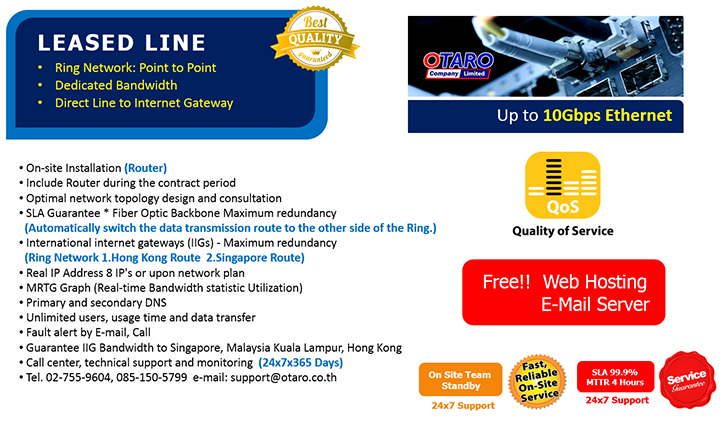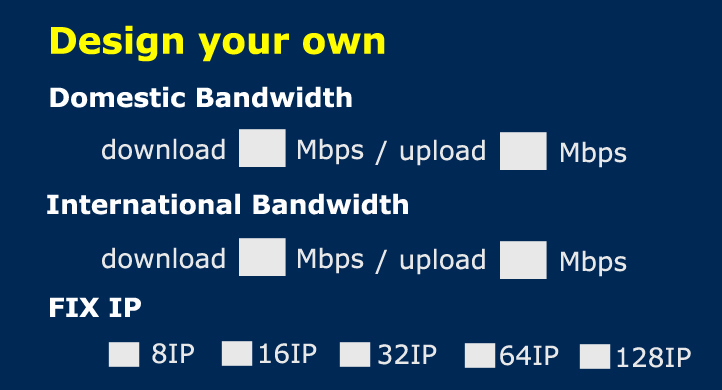 Get a Quotation*
Send Requirement to "Sales@otaro.co.th"
or Call 0-2755-9604
Include Service*
• On-site Installation (Router)
• Include Router during the contract period
• Optimal network topology design and consultation
• SLA Guarantee  
• Fiber Optic Backbone Maximum redundancy  
(Automatically switch the data transmission route to the other side of the Ring)
• International internet gateways (IIGs) - Maximum redundancy   
(Ring Network 1.Hong Kong Route  2.Singapore Route)  
• Real IP Address 8 IP's or upon network plan
• MRTG Graph (Real-time Bandwidth statistic Utilization)
• Primary and secondary DNS
• Unlimited users, usage time and data transfer
• Fault alert by E-mail, Call
• Guarantee IIG Bandwidth to Singapore, Hong Kong
• Call center, technical support and monitoring  (24x7x365 Days)
• Tel. 02-755-9604, 085-150-5799  e-mail: support@otaro.co.th

Media by OTARO Fiber Optic*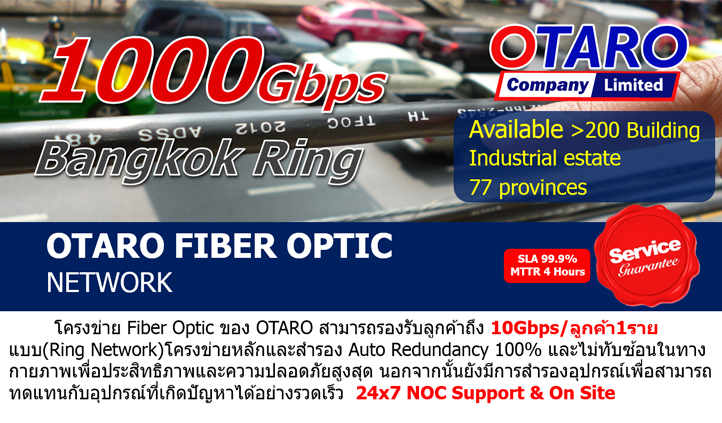 BENEFITS OF FIBER OPTICS

Optical fiber systems have many advantages over metallic-based communication systems. These
advantages include:

• Long-distance signal transmission
The low attenuation and superior signal integrity found in optical systems allow much
longer intervals of signal transmission than metallic-based systems. While single-line, voice-grade copper systems longer than a couple of kilometers (1.2 miles) require in-line
signal for satisfactory performance, it is not unusual for optical systems to go over
100 kilometers (km), or about 62 miles, with no active or passive processing.

• Large bandwidth, light weight, and small diameter
Today's applications require an ever-increasing amount of bandwidth. Consequently, it is
important to consider the space constraints of many end users. It is commonplace to install
new cabling within existing duct systems or conduit. The relatively small diameter and light
weight of optical cable make such installations easy and practical, saving valuable conduit
space in these environments.

• Nonconductivity
Another advantage of optical fibers is their dielectric nature. Since optical fiber has no metallic components, it can be installed in areas with electromagnetic interference (EMI),
including radio frequency interference (RFI). Areas with high EMI include utility lines,
power-carrying lines, and railroad tracks. All-dielectric cables are also ideal for areas of
high lightning-strike incidence. • Security
Unlike metallic-based systems, the dielectric nature of optical fiber makes it impossible to
remotely detect the signal being transmitted within the cable. The only way to do so is by
accessing the optical fiber. Accessing the fiber requires intervention that is easily detectable
by security surveillance. These circumstances make fiber extremely attractive to
governmental bodies, banks, and others with major security concerns.

• Designed for future applications needs
Fiber optics is affordable today, as electronics prices fall and optical cable pricing remains
low. In many cases, fiber solutions are less costly than copper. As bandwidth demands
increase rapidly with technological advances, fiber will continue to play a vital role in the
long-term success of telecommunication.

สนใจใช้บริการหรือติดต่อสอบถาม 
Tel. 02-755-9604, 02-183-3332
Fax. 02-755-9605
E-mail : Sales@otaro.co.th